The 20 best pound-for-pound boxers in the world right now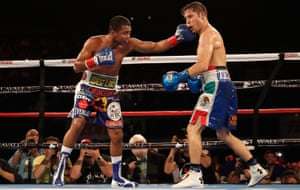 It's the kind of pastime you either hate, love to hate, or just find mildly interesting to debate: pound-for-pound updates of the best fighters in the world, regardless of weight. We have seen some movement on the list since we last undertook this exercise six months ago: we have a new entrant to the top three, a few new names in the top 10 and several departures from the list. As always, the main standard is quality wins, especially of recent vintage. Fighters who have been inactive for a year, or who officially retire, are eligible to return once they fight again. (Looking at you this weekend, Manny Pacquiao.)
It feels as if Román "Chocolatito" González's pound-for-pound reign has been a tease, as he hasn't had a rematch with Juan Francisco Estrada or faced Naoya Inoue since he replaced Floyd Mayweather on the throne a year ago. He hasn't faced another flyweight fighter with pound-for-pound status but at least he took on the next best thing by moving up to junior bantamweight and conquering hard-hitting Carlos Cuadras. He showed vulnerability at the new weight, albeit against a terrific opponent, but still triumphed.
When we last saw Sergey Kovalev, he struggled against Isaac Chilemba. When we next see Kovalev, it might be to decide the pound-for-pound king. Later this month Kovalev will face Andre Ward, a man a couple spots lower on this list. Regardless of whether you think it might be "boring" because of Ward, it's one of the best match-ups in the sport.
Terence Crawford's win over Viktor Postol in July gave him his best win yet, cementing the impression that this kid might one day take over boxing. He's now a two-division lineal champion. His next fight is a step down, against John Molina Jr., but he's still a perfectly acceptable opponent.
Ward is still coasting on work he did years ago, but he will really earn this spot if he beats Kovalev on 19 November. Ward beat Alexander Brand in August in a fashion that, for two consecutive fights, raises doubts about whether he's a real light heavy, and whether he might be getting old.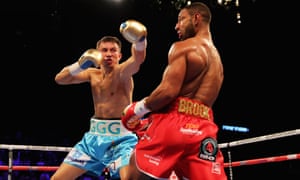 Welterweight Kell Brook gave Golovkin his toughest fight in years, as an over-eager Golovkin got caught plenty by the skilled and fast-handed Brit. Once he settled down, it was the usual demolition job for Golovkin. Too bad a comparable fight against someone his own weight – Daniel Jacobs – has been pushed to 2017.
So the 155lb middleweight king fought someone closer to his desired weight, junior middleweight Liam Smith, and looked spectacular. The bad news is that he broke a thumb and is out of commission for a while, pushing the long-desired Golvokin showdown back even further.